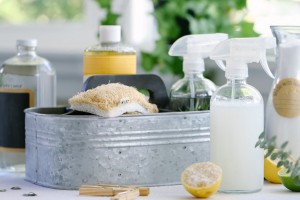 You don't need bleach or Clorox wipes for cleaning your home! I'm sharing 3 of my easy, economical & earth-friendly recipes below! You probably have most ingredients in your kitchen. Let's get cooking!
Disinfecting Cleaner
1/2 Cup Distilled White Vinegar
1/2 Cup Vodka
10 Drops Lavender
10 Drops Lemon
1 1/2 Cups Water
Mix all ingredients to combine. Spray surfaces to be cleaned. Allow to sit 10 minutes before wiping to disinfect.
Peppermint Glass and Mirror Cleaning 
2 cups water
2 tablespoons white vinegar
2 tablespoons rubbing alcohol
5 drops peppermint essential oil
Instructions Combine and mix ingredients in spray bottle. Spray and wipe with a soft cloth.
Nightly Sink Scrub
2 cups baking soda
10 drops lemon essential oil
10 drops clove essential oil castile or dish soap (this isn't added to the baking soda until it's used.)
Add baking soda to a mason jar or container and add essential
oils. Stir to combine. Wet the sink, sprinkle the powder and
add a squirt or two of castile or dish soap to the sink. Using a
sink-safe scrub brush, scrub the sink thoroughly. Rinse and dry.
Repeat every night after your kitchen is clean.
Daily Shower Spray
½ cup vodka
1 cup water
10 drops peppermint essential oil
Instructions: Mix and store in a spray bottle. Spray shower or tub daily after showering or bathing. No rinse needed!