Meet Dr. Valerie Oldenburg, D.C.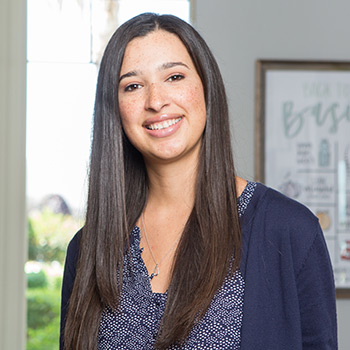 Dr. Valerie Oldenburg, D.C., is Dr. Donohoe's sister-in-law. She began her career at Donohoe Chiropractic in 2009 as a Career Explorations elective in High School. She very quickly excelled in every aspect of the practice.
Dr. Oldenburg advanced from File Clerk to Managing the office in a very short time frame. Working closely with Dr. Donohoe and seeing the amazing chiropractic success stories first hand inspired her to attend Chiropractic College in 2015. After a long and rigorous journey, including a two hour commute each way, Dr. Oldenburg graduated in December 2018 from Southern California University of Health Sciences as a Doctor of Chiropractic, (D.C.)
Dr. Oldenburg has a passion for Pre-Natal & Pediatric care and is continuing in Dr. Donohoe's footsteps and furthering her education to obtain her Board Certification in Pediatrics and Pre-Natal Care, (DICCP) through the International Council Of Pediatric Chiropractic. Dr. Oldenburg is Webster Technique Certified through the ICPA. She is passionate about supporting women obtain their pregnancy and birth goals. She is an advocate for Attachment Parenting and human milk for human babies.
Dr. Oldenburg resides in the Temecula Valley with her husband Blake and their newborn son. They are surrounded by both their families. Dr. Oldenburg gave birth at home with the support of her husband and birth team, which included her doula & sister, Veronica Donohoe. We are looking forward to her return from maternity leave this summer.
Certifications
RockTape Basic & Performance Functional Movement Taping
Neuro Cranial Integration
Webster Certification
American Heart Association- Basic Life Support (CPR and AED)
Apr 29, 2018
Mar 11, 2018
Oct 22, 2017
Sept 28, 2017
---
Dr. Valerie Oldenburg | (951) 677-6500