Veronica Donohoe
Office Manager, Birth Doula and Resident Mastermind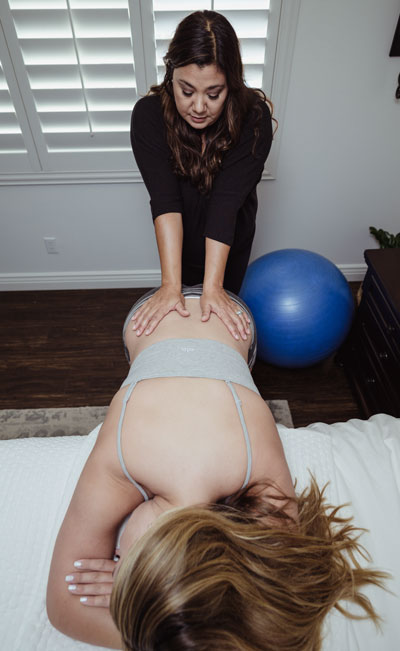 Veronica is Dr. Donohoe's wife, Office Manager, Doula, and Resident Mastermind. Always refining systems and innovating, Veronica is the creative, driving force behind everything at Donohoe Chiropractic.
Throughout her career at our practice, she found herself supporting expecting moms on various topics from natural childbirth to breastfeeding. The next natural step was to get formalized training and become a birth doula. Through DONA International, Veronica learned labor techniques, how to support families during labor, nursing and health and nutrition during pregnancy. She works with expecting moms to make sure they have the birth they want, whether it's at home, hospital or a birth center. In the office, she often helps new moms troubleshoot latching issues or navigating lip or tongue ties, low milk supply and more. If needed, you can be referred to our lactation consultant.
In 2008, Veronica co-founded the Temecula Valley Chapter of Holistic Moms Network, a non-profit support and discussion group dedicated to supporting families with an interest in natural health, green living, and mindful parenting. She is passionate about prenatal health; she promotes natural childbirth, extended breastfeeding, cloth diapering, attachment parenting, natural family living, whole and organic foods. It is her mission to spread the knowledge of raising healthy families through Murrieta and the surrounding areas.
As a natural leader, Veronica has organized many educational events and is actively involved in helping friends and patients find their local birth providers. She supports the community of birth professionals by hosting and attending gatherings. She is the Founder of the Temecula Valley Birth and Baby Fair.
"My tight-knit family includes four children, a daughter-in-law and a grandson. Over the span of 27 years we have successfully put into practice all that we passionately share with our patients and community. My children have been raised naturally, avoiding unnecessary chemicals, medical interventions and they have even experienced the beauty of birthing at home. "
Outside of the Office
Veronica loves to spend time with her family, cooking for them or hanging out at the beach. She enjoys participating in community events including Murrieta / Wildomar Chamber of Commerce. In an effort to help keep healthy families, she started an Elderberry Syrup business in 2015 that quickly gained a huge following. Donohoe Elderberry Syrup is now available in six locations throughout Temecula Valley including:
Donohoe Elderberry is made in small batches with all-organic ingredients and local, raw honey.
Get Started Today
If you're ready to improve your health, our team is here to assist you. Contact Donohoe Chiropractic today!
CONTACT US »
---
Veronica Donohoe | (951) 677-6500